What's happening at Santa Clara Family Health Plan



Greetings SCFHP employees,
We are excited to announce that we have partnered with the YMCA of Silicon Valley to offer employees and their household members a YMCA membership starting September 1, 2022. With this membership, you can take advantage of many programs, classes, and health & fitness activities offered at YMCA locations in Silicon Valley.
We hope you will enjoy this new benefit as we endeavor to support the wellness needs of our workforce!
For more information about YMCA locations and benefits, visit https://www.ymcasv.org/.
To sign up, complete the SCFHP employee registration form.

You'll need your ADP employee ID number. You can find this number by logging in to ADP and viewing a pay statement. The "File" number is your ADP employee ID.

Feel free to reach out to HR with any questions at hr@scfhp.com.
Thank you,
Human Resources Department
At SCFHP, we are committed to helping our employees achieve their best health.
You are our greatest asset, and we know that high-performing, healthy, and
happy individuals are those with high levels of well-being.
SCFHP shows its pride
On August 28, more than three dozen Santa Clara Family Health Plan staff and their families and friends participated in the Silicon Valley Pride Parade through the streets of San Jose.
As the largest Medi-Cal managed care plan in Santa Clara County, we are committed to building a welcoming and inclusive community where our members, team members, and residents feel safe, respected, and valued in being themselves and expressing all aspects of their identities.
We look forward to exploring and expanding our commitment to our LGBTQ community and becoming an ally to advance the health of all our members and residents. Special thanks to the Pride parade planning volunteer group: Mike Gonzalez, Victor Hernandez, Jocelyn Ma, April Pitt, Yolonda Jimenez, Sal Lopez, Charmaen Herrera, Jenny Beyer Cornell, Michelle Dumont, Nicole Bell, Jenny Arellano, and Carole Ruvalcaba.
Celebrating 10 years of helping families in East San Jose
Taking a moment were, from left: Judith Sanchez, M.D., Amigos de Guadalupe Board Member; Mike González, SCFHP Director, Community Engagement; Maritza Maldonado, Amigos de Guadalupe Executive Director; Rita Duarte Herrera, long-time East San Jose advocate, and Chelsea Byom, SCFHP Vice President, Marketing, Communications & Outreach.
On September 8, Amigos de Guadalupe Center for Justice & Empowerment marked its 10th anniversary of helping local families meet their basic needs in East San Jose.
Santa Clara Family Health Plan (SCFHP) was a proud sponsor of the anniversary event.
Being a Champion for Change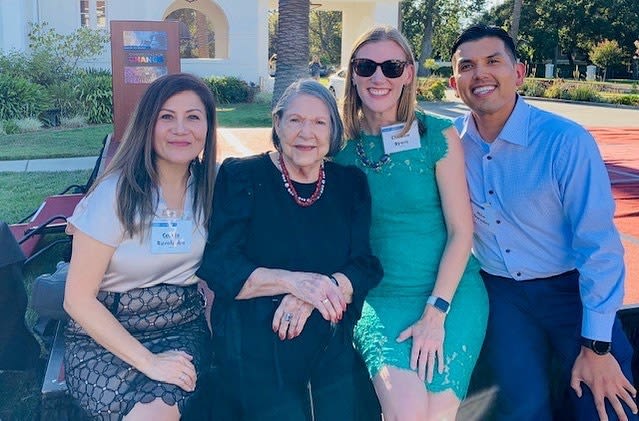 In the photo, Blanca Alvarado is joined by: Carole Ruvalcaba, Director, Marketing & Communications; Chelsea Byom, Vice President Marketing, Communications & Outreach, and Mike Gonzalez, Director, Community Engagement from Santa Clara Family Health Plan.
On August 25, Santa Clara Family Health Plan sponsored the Champions for Change partnership celebration by Working Partnerships USA, where former Supervisor Blanca Alvarado was honored with the Movement Champion award for working tirelessly to improve the health and well-being of all people in our county.
2023 SCFHP Holiday Schedule
SCFHP will observe the following holidays in 2023.
Holiday

Actual Date

SCFHP Date Observed

Day Observed

New Year's Day*

Martin Luther King Jr. Day

President's Day

Cesar Chavez Day

Memorial Day

Juneteenth

Independence Day

Labor Day

Veteran's Day*

Thanksgiving Day

Day after Thanksgiving

Christmas Day

Day after Christmas**

01/01/23

01/16/23

02/20/23

03/31/23

05/29/23

06/19/23

07/04/23

09/04/23

11/11/23

11/23/23

11/24/23

12/25/23

12/26/23

01/02/23

01/16/23

02/20/23

03/31/23

05/29/23

06/19/23

07/04/23

09/04/23

11/10/23

11/23/23

11/24/23

12/25/23

12/26/23

Monday

Monday

Monday

Friday

Monday

Monday

Tuesday

Monday

Friday

Thursday

Friday

Monday

Tuesday
*When a holiday falls on a Saturday, it is observed on the preceding Friday. Holidays that fall on a Sunday are observed on the following Monday.
**Per the MOU, SCFHP will observe the day after Christmas as a holiday since Christmas Eve falls on a Sunday.