Past Employee eNews
Vol. 1, Issue 1: April 2022
On behalf of the Santa Clara Family Health Plan (SCFHP) executive team, I want to welcome you to our premiere SCFHP Employee e-Newsletter.
This monthly e-Newsletter is a collaborative effort of many people, including: Employee Engagement Committee; Executive Team; Human Resource Department; Marketing, Communications, and Outreach Department and many others who have and will contribute to its content. It is also a result, in part, from the Employee Survey conducted in 2021 and guided by the goals and values found in the 2021-23 SCFHP Strategic Plan.
As stated in one of our eight company values, a Culture of Caring, we want to work together to create a culture that supports, develops, and recognizes team members. In our commitment to each other, we want to create and foster a cohesive organizational identity and make our values clear through the work we do. This e-Newsletter, I believe, will help us achieve that.
I would like to express my sincere gratitude for the contributions each of you continues to make to the critical work we accomplish every day. Together, we at Santa Clara Family Health Plan are committed to providing access to high-quality health care, and driving equity and inclusion for the communities we serve.
Christine M. Tomcala
Chief Executive Officer
So, has "Insert Name Here" atop the banner of this e-Newsletter sparked any interest or curiosity?

This e-Newsletter needs a name. Not just any name, a name picked by the employees of Santa Clara Family Health Plan.

To encourage employee participation and foster team/company unity, you are encouraged to submit name suggestions for this e-Newsletter.
The rules are:
Email your suggested names to newsletter@scfhp.com by noon on April 22
The names will be reviewed by the Executive Staff.
The top names will be emailed to every employee to vote for their favorite. You have until EOD on May 6 to vote.
The votes will then be tallied and a winner will be announced by our CEO Christine Tomcala.

At the same time, the name of an employee who voted will be drawn at random and receive a gift card.

New Hires
| | | |
| --- | --- | --- |
| Hire Date | Name | Job Title Description |
| 01/03/2022 | Liz Sullivan | Manager, Communications |
| 01/03/2022 | Nhi Ly | Provider Performance Program Coordinator |
| 01/31/2022 | Alina Lozano | Transportation Specialist |
| 02/07/2022 | Jasjit Barring | Marketing Coordinator |
| 02/07/2022 | Ivy Chew | Transportation Specialist |
| 02/14/2022 | Charla Bryant | Manager, Clinical Quality & Safety (RN) |
| 02/17/2022 | Christine Isidro | Accounts Payable Specialist |
| 02/22/2022 | Chemyamal Kasampula | Community Based Services Specialist |
| 02/22/2022 | Laura Munoz | Community Based Services Specialist |
| 02/22/2022 | Robert Scrase | Manager, Process Improvement |
| 02/24/2022 | John Sum | Medical Director |
| 03/23/2022 | Francine Bacchini | Marketing Project Manager |
| 03/23/2022 | Alissa Butac | Medical Management Care Coordinator |
| 03/28/2022 | Lloyd Alaban | Copy Writer and Content Strategist |
| 03/28/2022 | Yuemin Li | Provider Database Analyst |
| 03/28/2022 | Miranda Lopez | Medical Management Care Coordinator |
SCFHP 2022 Employee Survey runs April 11 through May 6.
Take this opportunity to share your opinions about working for SCFHP by completing the 2022 SCFHP Employee Survey. Go to this link: https://www.employeesurveys.com/SCFHP2022.php
Live webinar for Stress Awareness Month
April 19 at 11 am and 1 pm. Be on the lookout for the invite.
Registration opens for Santa Clara Family Health Plan's Feel Like a Million campaign Monday, April 18 If you're ready to feel your best, you won't want to miss this retro game board-themed campaign.
Santa Clara Family Health Plan Equity Council announced
On March 17, Santa Clara Family Health Plan (SCFHP) announced the staff members named to its Equity Council. (See list below). The focus of the council is to promote a culture of inclusion and belonging at SCFHP, making it an employer of choice.
The Equity Council was developed in conjunction with the SCFHP Equity Steering Committee and Councils, which are the organization-wide structure to raise health equity for our members and create an equitable and inclusive workplace. It was announced at the December 2, 2021 All Staff Meeting.
According to Ngoc Bui-Tong, Vice President, Strategies and Analytics and executive team sponsor, there were more volunteers than seats, and final selections were made with the goal of having a broad representation of departments and job levels. The remaining staff volunteers will be kept on the list for the second term.
Congratulations to those named.

SCFHP Equity Council
| | | |
| --- | --- | --- |
| Name | Position | Department |
| Diane Eagle | PDR Analyst | Claims |
| Caroline Tambe | Clinical Pharmacist | Pharmacy |
| Amber Tran | Process Improvement PM | Quality |
| Jessica Bautista | Manager, Community Based Case Management | LTSS |
| Jenny Arellano | Marketing PM | MKG, Comms, Outreach |
| Yolanda Jimenez | Training and Quality Monitoring Associate | Customer Service |
| Thomas Ngo | Manager, Health Care Analytics | Finance |
| Alejandro Rodriguez | Compliance Analyst | Compliance |
| Falisha Ornelas | IT Project Coordinator | IT |
| April Pitt | Enrollment Lead | Enrollment and Eligibility |
| Abby Baldovinos | Sr. Provider Services Representative | PNO |
+ Ngoc Bui-Tong, Teresa Chapman, Strategic Planning PM (vacant)

Steering Committee Members at Large
| | | |
| --- | --- | --- |
| Lisa FitzPatrick | Manager, Marketing Production | MKG, Comms, Outreach |
| Gabriela Landeros | Claims Quality Assurance Auditor | Finance |
+ Ngoc Bui-Tong, Johanna Liu, Karen Fadley, Claudia Graciano, Strategic Planning PM (vacant)
Quality Improvement – Health Education & Cultural and Linguistic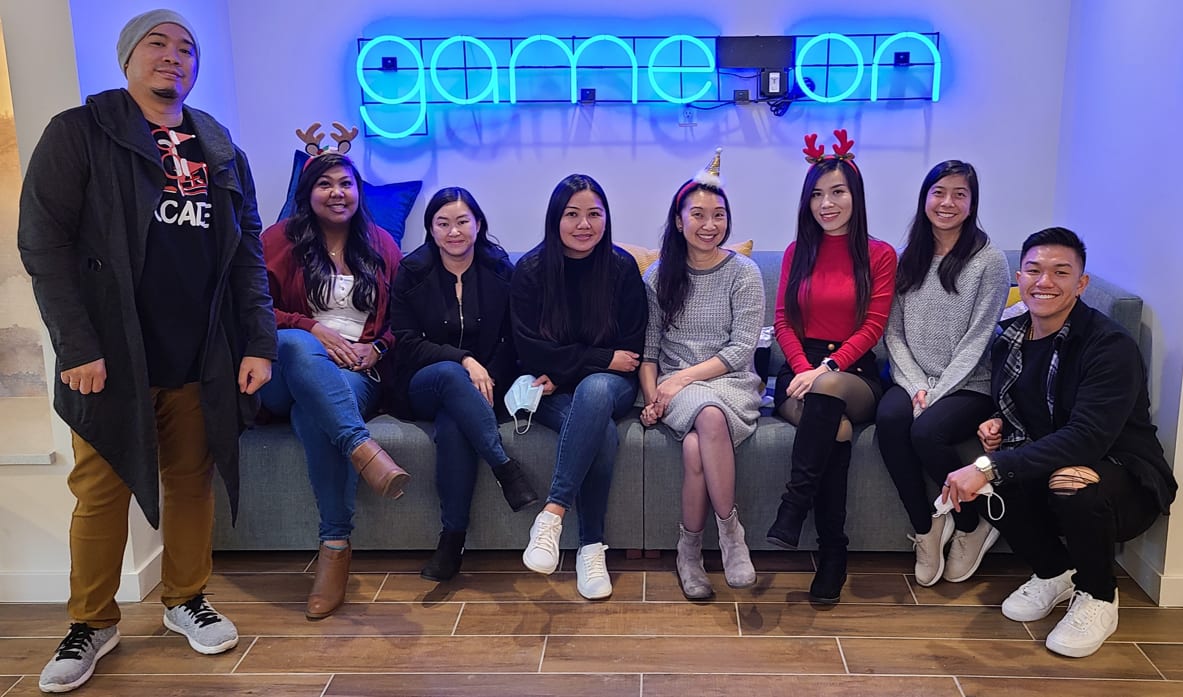 Quality Improvement & Health Education Team, from left: Chad Salamat, Jeanette Montoya, Ly Nguyen, Zara Ernst, Lucille Baxter, Tu Le, Ivy Douangphachanh, and Justin Diep.
Told by Lucille Baxter, Manager, Quality Improvement & Health Education


| | |
| --- | --- |
| Question | In 45 words or less, describe your department |
| Answer | Our focus is to improve the quality and health of members. We do this by promoting positive health outcomes through prevention, management of health conditions and self-care and assisting members to modify personal health behaviors and achieve and maintain healthy lifestyles in a culturally and linguistically appropriate manner. |
| | |
| --- | --- |
| Question | What are the challenges facing your department? |
| Answer | During COVID, health education classes have been held on Zoom, instead of in-person. Attendance for SCFHP health education classes has been a challenge. This may be due to Zoom fatigue. Another challenge is members who depend on interpreters for the classes. We are exploring other options to increase attendance |
| | |
| --- | --- |
| Question | Describe some highlights and share some achievements. |
| Answer | We partner with local community organizations to offer 20+ virtual health education classes to our members. We had 600+ members attend classes in 2021. We have implemented SCFHP in-house health education classes in 2021. Our first virtual baby shower was in May 2021 and thereafter, has been conducted monthly. Our first Controlling Blood Pressure Class was in July 2021 and thereafter, has been conducted monthly. |
| | |
| --- | --- |
| Question | Share something most people inside SCFHP don't know about your department. |
| Answer | All written health education materials generated by the staff of Santa Clara Family Health Plan must be reviewed, field tested, and approved by Health Educators. We ensure all the materials meet readability and suitability requirements in a manner and format that is easily understood (sixth-grade reading level), and are culturally and linguistically appropriate for members. |

Lunar New Year Celebration
On February 12, amid clear skies and warm temperatures, more than 200 residents and health plan members attended the SCFHP Blanca Alvarado Community Resource Center Lunar New Year celebration. This is one of the most important celebrations of the year among East and Southeast Asian cultures, including Chinese and Vietnamese communities. The celebration allowed CRC staff to further engage and foster trust with the East San Jose community.
Check out images from the event on the CRC's Facebook and Instagram pages -- @scfhp.crc.

COVID-19 Vaccine Clinics
From: Mike Gonzalez, Director, Community Engagement
Here's a quick summary of the COVID-19 vaccine clinics at the CRC in the first two months of 2022. Overall, we continue to experience good and steady engagement at our events due to our incentives and thoughtful community outreach efforts. In comparison, other vaccine clinics throughout Santa Clara County are experiencing an average of 70 shots per event. Note that schools and word of mouth are the most significant drivers for reaching and getting residents to the CRC.
| | | | | |
| --- | --- | --- | --- | --- |
| | Jan 22 | Feb 7 | Feb 18 | Feb 19 |
| Total shots administered | 380 | 105 | 94 | 167 |
| Members of SCFHP | 77 | 46 | 47 | 77 |
| Number of First Dose | 90 | 19 | 24 | 26 |
| Pediatric – First Dose | 60 | 8 | 13 | 9 |
| Number of Second Dose | 17 | 16 | 30 | 58 |
| Pediatric – Second Dose | 13 | 11 | 13 | 42 |
| Number of Boosters | 273 | 70 | 40 | 83 |
Outreach (How did you learn about the vaccine clinic?)
| | | | | |
| --- | --- | --- | --- | --- |
| SCFHP Blanca Alvarado Community Resource Center | 10% | 10% | 20% | 15% |
| My child school | 35% | 36% | 32% | 25% |
| Social media (Facebook or Instagram) | 25% | 5% | 7% | 10% |
| Word of mouth (a trusted family member or friend) | 25% | 40% | 28% | 35% |
| Other CBO | 5% | 1% | 5% | 12% |